"jingle wallet"
Via Scarfolk.
If you were upset that the bit with the giant in Eurovision only went for a few seconds last night, watch this gif until you've got your money's worth.
Something for the weekend, 18/05
New music and words about it here. Stuff from CSS, Seja, Har Mar Superstart, Nocando, Andrew Tuttle and Scout Niblett.
Scout Niblett wants revenge. Whoever wronged her is about to get badly messed up by her and her gun, and her guitar, and her drums. This bundle of grungy menace is accompanied by a video that's as twee as anything, with Niblett dressing as Snow White to hang out at the fair, have her photo taken and play with bubbles. I expect your essays on juxtaposition on my desk by Monday afternoon, class.
reblogged from zpxlng
I recently received an email from an anonymous fan sharing how she pulled a Hawkeye Initiative themed prank on her CEO to illustrate a problem with some artwork.
My personal compliments to her and her accomplice on a mission well done; they perfectly took the concept of The Hawkeye Initiative one…
reblogged from thehawkeyeinitiative
Live Review: Tenacious D
I saw Tenacious D last night. Then I wrote a thing about that.
There's a contradiction to what Tenacious D do. They're strutting, posing rock egomaniacs while also being unfit, schlubby ordinary guys, and that's the heart of their whole shtick. But go one layer deeper and they're actually great musicians who deserve respect pretending to be ordinary guys pretending to be rock stars. Jack Black can hit every ridiculous high note and Kyle Gass performs guitar wizardry, then takes a break for a flute solo (or maybe it was a recorder, I was too busy being impressed to notice).
a heaving mound of film critics clamouring over each other's sweaty bodies to be the first to write THE OKAY GATSBY in an email to their editor
A stalwart tower of editors preparing to reply, "Our house style is to use 'OK'."
reblogged from grimelords
reblogged from kierongillen
Interview: Tim Steward of We All Want To
I have an interview with Brisbane band We All Want To in the latest issue of Melbourne magazine Beat.
I have this image in my head of Tim Steward as a bit of a cranky, curmudgeonly guy. Maybe not back in his Screamfeeder days, but certainly in his more recent acts, both The Whats – who have a gleefully misanthropic song called Ants where Steward imitates other people's boring conversations by singing "Blah blah blah, misery!" – and We All Want To.

In the case of We All Want To it's because they kicked off last year's great album Come Up Invisible with a song where Steward rants about all the things he thinks you should stop doing, like "Stop writing letters to yourself, you're never gonna read 'em" and "Stop caressing your phone!" Predictably, in person he turns out to be totally pleasant even when being interviewed at 10 in the morning, happy to answer questions from someone who uses a phone to take photos at gigs.
reblogged from mckelvie
reblogged from bargainbinblasphemy
There is a hidden object game based on the TV show Castle and even though the game is called Castle: Never Judge A Book By Its Cover I kind of am.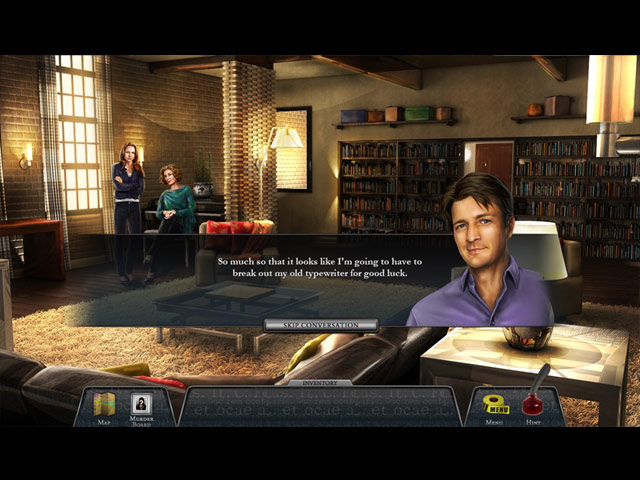 I played all the way through a hidden object game based (loosely) on H.P. Lovecraft's story The Cats Of Ulthar once and that was enough for me and not even Nathan Fillion's winning smile can convince me otherwise.
Something for the weekend, 04/05
Another week, another batch of new songs recommended over at FasterLouder. This time: Tricky, Bloods, Tame Impala (yeah, it's the OutKast cover), Chance the Rapper, and Maria Mena.
Norwegian singer Maria Mena has the same reaction to people being jerks on the internet as everyone and she's not the first person to write a song about it, but the peculiar way her accent and singing style turn "fuck you" into a twisting multi-branched thing mean that I am going to enjoy launching into this chorus the next time someone on the internet gives me a good reason to. Which will probably be every five minutes from now until the day they turn it off.